If you have grown a variety of beans that you have enjoyed, and it wasn't an F1 hybrid then it is well worth saving seeds for next year. F1 hybrids will not come true to type but if you're not too bothered about staying true to type then save some anyway. So here's how to save seeds from runner beans.
How to save Seeds from Runner Beans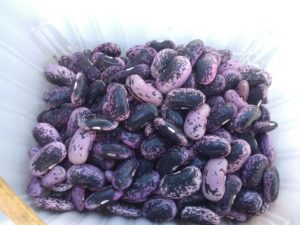 Towards the end of the growing season, after you have been picking runner beans for a while and have frozen enough to see you through the winter, leave some beans growing on the vine. They will start to swell and then dry out, changing colour to a light brown. Once the beans swell the plants will stop producing new beans, that's why it's better to do this at the end of the season.
When to Pick The Drying Beans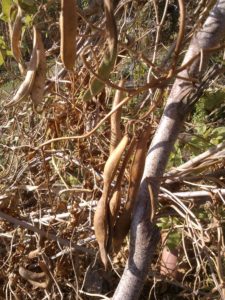 If the weather is fair and there is no sign of frost, leave the beans on the plants until pods are completely dry. They will be brown and dry to the touch, this is the time to pick the pods. Try to leave the plants in situ as they will be transferring Nitrogen to the soil through their roots.
How to Collect the Seeds
Find somewhere comfortable to sit and get a container to catch the beans in. You pod the beans like you would fresh peas but the beans will be easier because the pods are dry.
What to Watch Out For
If any of the beans have a brown mark on them discard them as this is likely to be Halo Blight. This is a disease that can wipe out your bean plants if allowed to spread, so the old maxim "prevention is better than cure" definitely applies.
If any beans have holes in them discard as these probably contain the grub of the bean beetle. Usually the bean beetle will only feed on the cotyledon or seed leaf and usually the bean will still germinate but firstly it's not worth taking that chance. Secondly this could lead to an infestation of bean beetles.
Where to Store the Runner Bean Seeds
Leave the beans in the container until you are sure they are completely dry. Then store them in either a jar or an envelope. Then next spring plant in the usual way.
Save
Save
Save
Save
Save