Making your own seed tapes is a great idea as I never really understood why people would spend money on something so easy to create yourself. Why make a seed tape? Well picture yourself on your allotment or in your garden about to sow your carrot seeds or some other fine, light seeds and it's a windy day. Firstly the seed is small and hard to control and so the correct sowing distance is hard to obtain, and secondly, the fine seed will blow every which way in the wind. Seed tapes are easy to make and are very inexpensive. So without further ado, here's how to make a seed tape.
How To Make a seed tape – what you need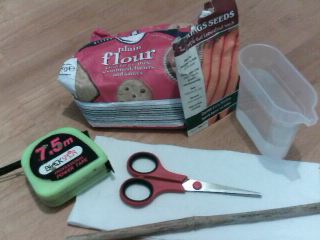 Toilet paper
Scissors
Flour
Water
Stick
Seeds
Measure
 Step 1 – Sizing Your Seed Tape.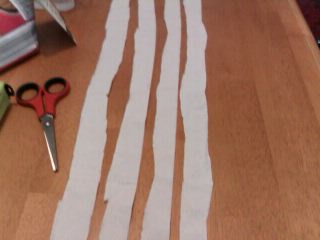 To start you need to measure the row on your plot where you want your seeds to grow. Once you have your measurement you want to divide that measurement by 4 (i.e. if it was 4 feet 4÷4=1foot). Then get a piece of toilet paper the same length and cut it (length ways) into quarters.
Step 2 – Making The Glue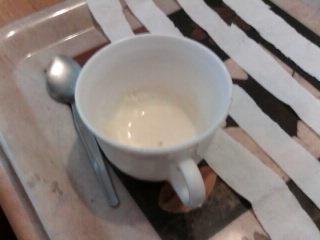 The glue I use when making a seed tape is the most simple, inexpensive glue possible, just a mixture of flour and water. I find that for a six foot row (eighteen inches of toilet paper cut into four) the mix required is one teaspoon of flour to four teaspoons of water. Mix this solution in a cup or glass until it's the consistency of a paste.
Step 3 – Applying The Glue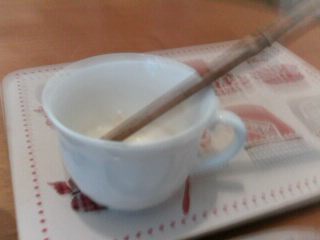 The next step needed to making a seed tape is to lay your toilet paper out in rows and apply the glue mixture roughly every inch to a inch and a half apart. Do this to each of the four strips of toilet paper, don't worry as the glue takes a long time to dry so you will have ample time to complete all the steps before the glue dries.
 Step 4 – Applying Seed
I think this is the step over which most care should be taken when making a seed tape. In the last step you placed the blobs of glue at regular intervals along the strips of toilet paper, now carefully place three seeds actually in the glue blob. As this is only a flour and water mixture it will not harm your seeds.
Step 5 – Folding The Strips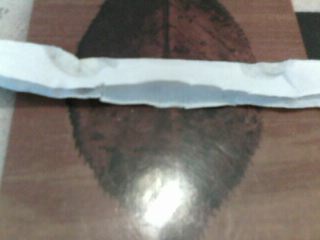 After adding the seeds to the glue you simply fold the strips horizontally thus creating four eighteen inch seed tapes. The glue will hold the strips together and if you carefully roll them up they can be taken to your allotment or garden and then planted.
 Step 6 – Planting The Seed Tape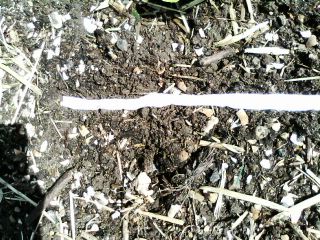 Check your seed packet for depth of planting (as a rule of thumb it's usually twice the depth of the seed, more on seed depth here), dig a groove at the correct depth and lay your seed tape along the groove. Continue with each length, cover over with soil and water as usual.
 Step 7 – After Care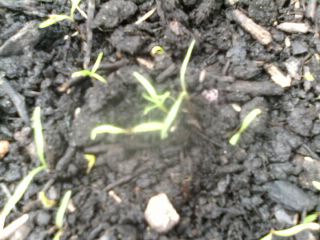 Keep your eye on the rows you have planted and if all three seeds germinate, simply cut two of the seedlings with sharp scissors and leave one to grow on. In this way you don't disturb the roots and therefore your plants should grow strong and healthy. Also don't worry about the paper used in making the seed tape as it will just compost away naturally leaving you with straight rows of seedlings at exactly the right distance apart.