Ever grown a few pumpkins but don't have a lot of time to prepare them?………
Or maybe you just don't have a lot of time to cook a healthy filling meal. Well this is the easiest recipe ever………….
………….This not only works for pumpkins but also for Butter nuts and most other winter squashes. So you have a pumpkin and 20 minutes to spare well here's the easiest pumpkin soup recipe ever.
Ingredients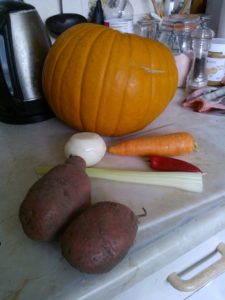 1 Pumpkin (peeled and diced)
1 Onion  (peeled and finely chopped)
2 Potatoes (peeled and diced)
1 Chilli (chopped)
1 Carrot (peeled and chopped)
1 Stick of celery (chopped)
Now for The Easiest Pumpkin soup Ever
All you have to do is chop all the ingredients and add them to a large pan of boiling water. You can add more chilli if desired but taste first.
Whilst the soup is boiling, place the pumpkin seeds on an oven tray and roast in the oven until brown and crispy.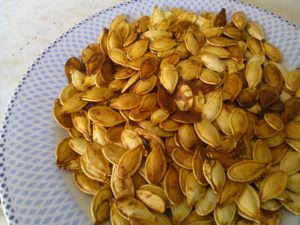 After all the ingredients are soft to the touch just blitz with  a hand blender and serve with a swirl of cream or yogurt and a few roasted pumpkin seeds.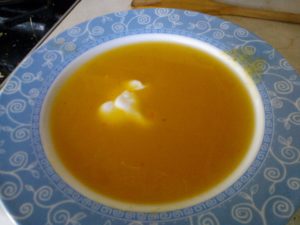 Enjoy …………… See I told you the easiest pumpkin soup recipe ever.
Having made this a few times I have experimented with the recipe slightly, and I find adding 2 cloves of garlic and about a quarter of an inch of fresh ginger really makes this a warming winter soup. What do you think? have you an easier recipe ? (I doubt it). Or have you added anything else and changed the taste at all ?
Save
Save
Save
Save
Save
Save