Once I signed up for my plot I realised I would need somewhere to store my tools so a shed would have to be sourced. Now I don't have a vast budget to play with so it soon became clear that I would have to make the shed.
I was quite lucky as my dad not only has a fair supply of wood but he is also quite practical and was able to help me with the construction. The area I had earmarked for the shed wasn't over large so I decided to make it fairly tall, so after some drawing of plans then throwing the plans away, I eventually come up with a four foot square shed that is six foot high (roughly). I had some scrap wood from the community gardens' waste pile that they said I could have and my dad had a load of second hand plywood, so we set to work. It took us four weeks to complete the shed because he is eighty and I have fatigue, so we did little and often. The roof is a piece of Perspex that a local shop was throwing out which allows daylight to enter so I can see my tools even on the dullest day. A friend had an old door they were dumping so all in all the shed cost me the price of two hinges and a bolt and a few screws and our time, blood sweat and tears.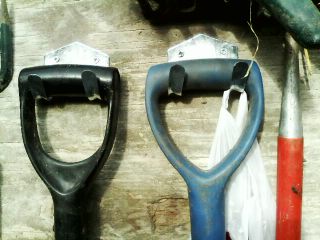 Inside to save space I put some hooks up to store tools on and I used screws to hold hand tools so the floor is mainly clear. The shed is fairly watertight and is handy to stand in if we get a heavy shower to keep dry.
Outside the shed my dad made me a small bench out of an old church pew he had in his workshop and when I get a dizzy spell or when I feel tired it's nice to sit and look over the plot  and have a hot drink. To the side of the shed I have stood some water butts as the water troughs are some distance from my plot and I'm hoping to collect enough water through the winter to save me walking the wheel barrow with three watering cans back to the plot in hot dry spells
My eldest son had some old guttering he had saved from an old shed so I used this to hopefully feed the water butts, it's still a work in progress but the first butt is full and the second is about an eighth full. It's a funny feeling when most people are complaining about the rain and I'm quite pleased to see it as it is watering the plot and filling the water butts at the same time.