This very simple vegan recipe is so tasty, takes hardly anytime to prepare, and will satisfy the hungriest of appetites. I have served these to meat eaters who didn't realise they were eating a Vegan meal. So here's how to make simple, tasty vegan pasties.
How To Make Simple, Tasty Vegan Pasties
The first step is to make or buy some short crust pastry. This is another simple task and the easiest recipe can be found here. Once you have your pastry, turn your oven to gas mark 4 (350 F or 180C) Then you can start to prepare your vegetables.
Ingredients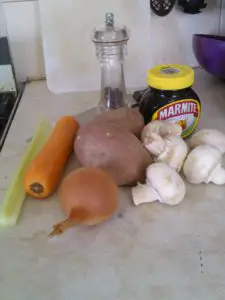 2 Medium potatoes peeled and diced
1 Medium carrot peeled and diced
1 Medium onion peeled and diced
1Stick of celery diced
5 Medium mushrooms chopped
1 Table spoon of yeast extract
Pepper to taste
2 tea spoons of olive oil
Method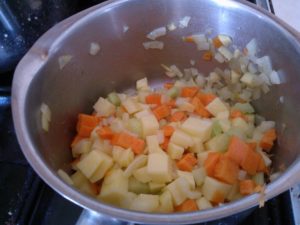 Place the olive oil in a saucepan and add the potatoes, onion, carrot, and celery, cover with a lid and cook on a hob on a low heat for 10 minutes stirring occasionally.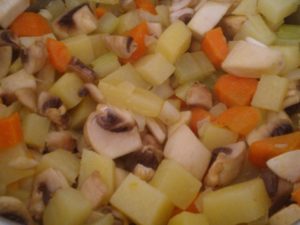 Then add the mushrooms and cover and continue to cook on a low heat for 5 minutes. After 5 minutes add pepper to taste and stir in the yeast extract. This is now ready to add to pastry.
How To Make The Simple Tasty Vegan Pasties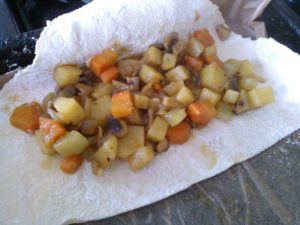 Roll out the pastry, divide into 4 and place onto a lightly oiled  baking tray lined with grease proof paper. Divide the filling between the 4 pastry shapes and crimp the edges together. I find that by lightly spreading water to the edge of the pastry with a finger helps the edges to stick together.
Cooking Time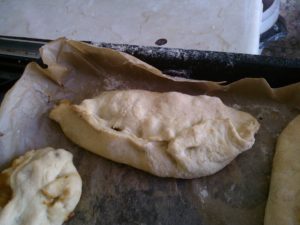 Place the baking tray in the middle of your pre-heated oven and cook for about 25-30 minutes at gas mark 4 (350F/180C). To check if the pastry is done just lightly tap it. It should feel firm to the touch.
Remove from the oven and using a flat blade or fish slice, transfer the pasties to a wire rack to cool or to plates to eat hot.
Enjoy. Not only one of the easiest recipes I have used but also very tasty and filling.
Variations
If you want to make these simple tasty vegan pasties for a snack, divide the pastry into 8 and make 8 smaller pasties. Or try adding a Chilli or chilli powder to the mix to hot things up a bit.
So there you have it, I hope  you enjoy these tasty pasties as much as I do. Have you tried any other variations? Please let me know below in the comments.
Save
Save
Save
Save