As the year draws to a close and most peoples thoughts turn to christmas I thought I'd give you a Late December Update on how my allotment is doing.
Late December Update
I went to my allotment for the first time in about a fortnight  to bring home the christmas dinner vegetables. The first thing I ever do on arriving at the plot is have a good look round and see what's going on.
Sprouts
I grew Bedfordshire fillbasket this year and they've certainly lived up to their name, I filled a 500gram pot with just the sprouts from one side of one stalk. I'm quite pleased as I only have 6 plants so it's good that they are producing so many sprouts.
Broad Beans
The variety of Broad Bean I chose this year was Aquadulce claudia because they can be sown in the Autumn and over winter thus giving them a head start on the aphids.
They all seem to have germinated and apart from some minor slug damage they seem healthy. I sowed them alongside some poached egg plants (Limnanthes douglasii) As poached egg plants attract the insects that eat aphids. I have used this technique in the past with great success.
Onions

My onion sets and garlic cloves are all growing well now and hopefully will all swell by the end of April or mid May. Having said that in Essex we have had hardly any frost yet and garlic needs frost to set cloves so this is a bit of a worry, but there's still plenty of time for a week or two of frosts.
Brassicas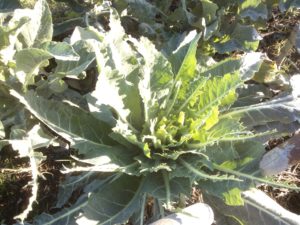 My other brassicas, cauliflowers, cabbages and purple sprouting broccoli are all looking healthy apart from a bit of slug damage which will hopefully sort itself out once the cold weather sets in.
Other crops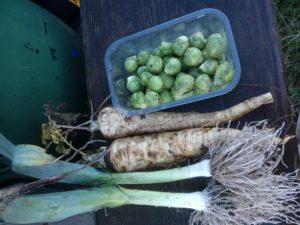 The rest of the plot is looking slightly bare apart from the leeks and the parsnips which were both planted early last spring, and some flat leaved parsley that seems to be flourishing.
So that's it there's nothing else to report so I'll finish by wishing you all a very merry christmas and a healthy, productive new year.
Save
Save
Save
Save
Save
Save
Save
Save
Save
Save
Save
Save
Save
Save