In my part of the United Kingdom January is either wet and mild or cold and frosty. It is currently cold, frosty, and extremely windy. Not really conducive to vegetable gardening. But here is the growing-guide what to do in the January Veg Garden.
What to do in the January Fruit garden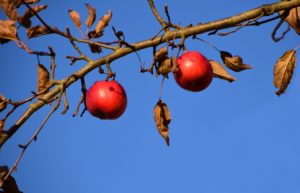 As long as the ground isn't frozen, January is the perfect time to plant bare rooted fruit trees. Be sure to add a strong stake to prevent wind damage.
This month is also the perfect time to Prune apple/pear trees. The trees are dormant at this time of year so they will not be weakened by January pruning. This is also true of Gooseberries, Currants and Autumn fruiting Raspberries.
What To Do In The January Veg Garden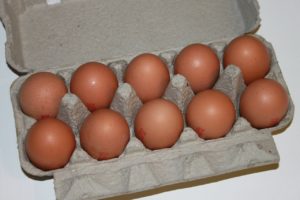 Depending on the conditions, January is the time to cover seed beds with polythene to warm up the soil for early sowings.
January is when I start to save my egg cartons to use for chitting my seed potatoes next month.
I also like to earth up my Brussel Sprouts against wind rock or if they are particularly bad, I stake them.
What  Seeds to Sow In January
In a unheated Greenhouse or cold frame, January is the time to sow Broad Beans in pots and Leeks do well started off now and planted out at the begining of March.
Indoors it's time to sow:-
Summer Brassicas
Spinach
Turnips
Spring Onions
Lettuce
Sow Onion seed in a heated propagator. This gives you a much wider choice variety wise, as Onion Sets seem limited.
Other Things To Do In The Garden This January
The Winter months are not really the best time in the veg garden as not much will be growing.
It's a time to repair reflect and plan.
So I always inspect all my tools and equipment and clean all my tools then coat them with a light coating of oil.
I also Inspect all my netting for damage and repair where necessary, check your bean poles…Do any need replacing? etc…
Planning Your Vegetable Plot
It is always a good idea to make a plan of your plot. Draw out the space you have and what you plan to grow in it. This way it is easier to divide the space for your various plant groups.To keep the soil healthy you should be alternating different plant groups each year. I use the four crop rotation system.
Now is the time to review what you grew last year, What wasn't successfull? Are you going to persevere with the same crop?
Or is it time to try something different?
( I'm going to try Maca root, physalis, and sweet potatoes this year).
If you're not  already growing  them how about giving these a try :-
Sourcing The Years Seeds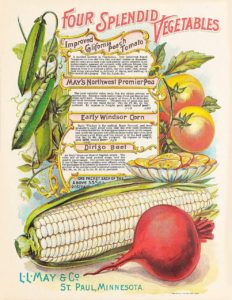 This is one of my all time favourite tasks in January… Sitting in the warm, looking through seed catalogues and dreaming about what I'm going to grow/when I'm going to grow it.
What's better than that? (other than actually doing it of course)
A few of my favourite seed suppliers are: – moreveg , D.T. Brown  & Kings Seeds
All it remains for me to say is HAPPY NEW YEAR and I hope all your seeds turn into great food.
Save
Save
Save
Save